The WHO - with its pursuit of ever more power and increased funding - is the central driver of "pandemic emergencies" as well as the undemocratic shift of political decisions to unelected, supranational organizations that can no longer be held accountable by us citizens.
With an expert hearing on September 13th in the EU Parliament, we want to get to the root of the problem and expose for the first time the constitutional mechanisms behind the WHO's power grab.
Our goals are:
1) To make people aware of the real dangers coming from the WHO and the EU.
2) To advance the public and political debate about this rapid power grab.
3) To provide concrete suggestions and examples of what we as civil society can and should do in each of our countries.
The idea is to clearly expose and dissect the clandestine WHO power grab from a legal and scientific perspective for the common citizen. After all the expert presentations, this event will result in a list of questions and demands to the European Commission in order to drive the parliamentary debate.
EXPERTS:
Prof. Mattias Desmet (Belgium)
Prof. Michael Geistlinger (Austria)
Prof. Andreas Sönnichsen (Austria)
Dr. Peter McCollough (USA)
Dr. Beate Pfeil (Germany)
Dr. David E. Martin (USA)
Dr. Maria Hubmer-Mogg (Austria)
Dr. Renate Holzeisen (Italy)
Philipp Kruse, Attorney at law (Switzerland)
Hosting MEPs:
MEP Christine ANDERSON (Germany)
MEP Mislav KOLAKUŠIĆ (Croatia)
MEP Ivan SINČIĆ (Croatia)
MEP Cristian TERHES (Romania)
MEP Virginie JORON (France)
We would like to invite all interested citizens to participate in this interesting and very important event.
Via the following link you can dial into the conference next Wednesday from 14:00 (CET). Use the live stream and benefit on this day from our numerous simultaneous translations also into your national language:
🌎📲👉 https://ep.interactio.eu/x6sm-yxvp-v2ax
I am looking forward to seeing you!
Yours, Christine Anderson, MEP
My inquiry to the #EU Commission reveals: EU citizens are compelled to tighten their belts on essentials such as #Gas, #Electricity, and food due to #Inflation, while the @EU_Commission squanders an astronomical sum of 2,756,286 #Euros on photographers and makeup artists.😱
Instead of merely making the Commission members and their 'political initiatives' look good, it would be in the interest of #EU citizens to use this budget for 'transparency' wherever Brussels decisions have already harmed today's #Europe and its people or will harm them in the future - From illegal #Migration to #FitFor55‼️
https://www.europarl.europa.eu/doceo/document/P-9-2023-001177-ASW_EN.html
The year 1683 is considered the fateful year of Europe. In a siege of Vienna by an attacking army of 120,000 men that lasted from July to September, the Ottoman Empire attempted to bring the "gateway to Western Europe" under its control. This existential threat to Christian Europe, which went down in the history books as the "Battle of Vienna" finally ended on September 12th, 1683, in the "Battle at Kahlenberg" with the defeat of the Ottoman army. This defeat marked the beginning of the end of the Turkish policy of conquest and hegemony.
This success of the Christian West was made possible by an incredible, hitherto unprecedented joint effort of many European territories and ruling houses.
Thus, on the Christian side, the combined infantry and artillery of the Holy Roman Empire finally fought in an alliance of Austria, Saxony, Bavaria, Baden, Franconia, Swabia and Upper Hesse together with the Polish cavalry led by King John III Sobieski and his armored horsemen. Further support was provided by the Republic of Venice and the Papal States.
Through determined cooperation between the forerunners of today's member states, European values were successfully defended on that historic day, allowing the European continent to continue to develop in the Christian Western tradition.
Today, there is no need to fight bloody battles with muskets and halberds to save European values and Western identity. Today, the battlefield has long been in the minds of European nations and peoples. There now lurks the danger of a creeping and irretrievable loss of identity, when misguided elites, conscienceless EU technocrats, as well as weak politicians and governments suffering from self-hatred and notorious servility put at risk everything for which the European defenders fought and won bloodily at the gates of Vienna 340 years ago.
In view of this new danger, as well as the 340th anniversary of the "Battle at Kahlenberg" this year, I have introduced a motion for a resolution in the EU Parliament.
According to this, September 12th should become a commemorative day, with a day off from work and a special holiday, where the "Battle at Kahlenberg" is commemorated. At the same time, the member states are to be encouraged to declare September 12th a national holiday.
I am particularly proud and happy that an alliance of MEPs from different European nations has once again come together for this purpose. Thus, colleagues from Germany, Austria, the Netherlands, Italy and Croatia are already supporting me in my undertaking as the first signatories of the motion for a resolution.
Therefore, my special thanks go to:
Markus Buchheit (AfD), Maximilian Krah (AfD), Gunnar Beck (AfD), Roman Haider (FPÖ), Marcel de Graaff (FvD), Susanna Ceccardi (Lega) and Ivan Vilibor Sinčić (Ključ Hrvatske).
I want an honest and free Europe of free peoples and not a construct of political elites. And I want a Europe of friendly fatherlands, which together defend their culture, identity, freedom and enlightenment as well as the interests of the European continent and its peoples against any danger - regardless of whether this danger comes, as once, from armies lusting for conquest or, as today, from the false prophets of a soul-less cult of globalization.
Kind regards,
Yours, Christine Anderson, MEP
In September 2022, YouTube blocked two of my videos in which I reported on my work in the COVID special committee. The reason given by the video portal was merely a vague reference to YouTube's own policy on so-called "medical misinformation", without specifying which information was supposed to have been wrong in the end.
YouTube blocks videos from parliamentary sessions
Both blockings are video recordings of the EU Parliament from the public meetings of the official "Special Committee on the COVID-19 Pandemic" - in short: "COVI Committee".
As EU parliamentarians elected by the citizens of the respective member states, my colleagues and I wanted to know from the representatives of the pharmaceutical company AstraZeneca why hundreds of millions of people were lied to about the effectiveness of the "vaccination" with regard to infection and transmission. We also wanted to know why barely tested substances were "vaccinated" en masse without a sufficiently valid data base. And we wanted to know why multinational corporations such as Pfizer, AstraZeneca, Moderna or Sanofi Pasteur are raking in billion-dollar profits on the one hand, but on the other hand are able to pass on all liabilities and guarantees to the governments and thus to each individual citizen.
I don't put up with anti-democratic blocking
Together with the deletions, YouTube also threatened me with the permanent suspension of my MEP account if another video of mine were to be found "objectionable" again. At the latest with this, the point was reached where I finally decided to take legal action against this obvious arbitrariness. I do not let my mouth be forbidden - neither by "Average Joe" nor by YouTube or its parent company Google.
After several letters from lawyers, YouTube finally caved in and unlocked my videos again. However, this happened without any comment. In addition, YouTube has not yet complied with my requests to provide a definition of the so-called "medical misinformation" as well as to comment in more detail on the blockings.
For this reason, I have now filed an action for an injunction and declaratory judgment against YouTube with the competent district court in my hometown of Fulda. On the one hand, this is intended to ensure that such blockings are not repeated and, on the other hand, to establish that the previous blockings were unlawful.
For freedom, democracy and the rule of law
I want - also in the sense of all freedom-loving citizens - to question the censorship mechanisms on YouTube. The unprovoked blocking of videos on my channel - which document the highly dubious events surrounding Big Pharma and the role of the EU - raise serious, anti-democratic concerns.
In the political arena, platforms such as YouTube are intended to help citizens gain an understanding of which party and which politicians represent their concerns best. Censorship of this kind suggests that certain processes and opinions are simply to be made inaccessible to voters. That is manipulation!
As a German MEP and committed advocate of freedom, democracy and the rule of law in the sense of unrestricted rule by the people, I see it as my duty to resolutely oppose any interference by private or state agencies in the free formation of opinion and will. Particularly when this is done secretly and invisibly to the outside observer.
At the same time, it must always be clear to online content creators which rules platform providers like YouTube apply. Vague guidelines or "secret paragraphs" that can be arbitrarily overstretched and reinterpreted at any time are highly intransparent and open the door to further arbitrariness.
Lawsuit has good chances of success
Just imagine that tomorrow you would receive a parking violation ticket or a penalty order from the public prosecutor's office without being informed of your exact offense or being told which law you are supposed to have violated. This may work in the confused thought worlds of Franz Kafka, but certainly not in a functioning constitutional state. For this reason, too, I see my lawsuit as a good chance to counteract the erosion of basic democratic principles.
I will not put up with uncontrolled influence on this scale, which is why I have now taken the necessary legal steps to obtain answers that have been outstanding for months and to ensure that all citizens have unfiltered access to relevant information at all times.
I will keep you posted on the progress of the proceedings.
Kind regards,
Yours, Christine Anderson, MEP (AfD)
___
Because YouTube decided to censor the German versions of these two videos during the p(L)andemic, I have now filed a lawsuit against the corporation through my lawyers:
Deputies are fed up! - Big Pharma under cross-examination!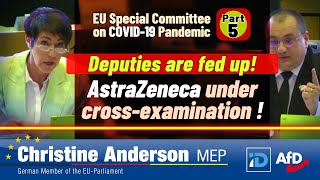 When clicked, this video is loaded from YouTube servers. See our privacy policy for details.
Lesson learned? - Politics further beyond reality!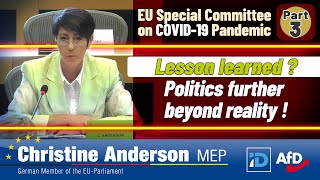 When clicked, this video is loaded from YouTube servers. See our privacy policy for details.
Great news‼️
From May 2-4, 2023, the "3rd INTERNATIONAL COVID SUMMIT" will take place in Brussels.
I am very excited to welcome the gathering to the EU Parliament on May 3. Together with my colleagues from "Team Freedom", we will host a great line-up of experts from around the world.
In addition to Dr. Robert Malone (USA) and Prof. Christian Perronne (France), other scientists from Germany, France and Italy will be present.
There will be a livestream starting at 9:00 am (CET) with translations in 7 different languages. Login here.
For more information on the three-day #ICS3 in Brussels, click here
By the way, the ICS network spans the globe with its members:
🇺🇸 🇨🇦 🇮🇹 🇵🇪 🇦🇷 🇬🇧 🇫🇷 🇩🇪 🇵🇾 🇧🇷 🇦🇺 🇨🇱 🇲🇽 🇩🇴 🇨🇴 🇧🇴 🇵🇱 🇮🇳 🇸🇮 🇿🇦 🇵🇷 🇭🇷 🇪🇸 🇬🇷 🇵🇹 🇨🇿 🇧🇬 🇸🇰 🇷🇴 🇸🇻 🇬🇹
Join us on May 3 for the live stream directly from the EU Parliament! It will get very interesting!
Looking forward to seeing you!
Yours, Christine Anderson, MEP (AfD)
As the news portal EURACTIV is reporting since yesterday, a Belgian lobbyist has filed a lawsuit against EU-Commission President Ursula von der Leyen. This also involves the president's entanglements with Pfizer CEO Albert Bourla, "vaccine" orders worth 1.8 billion euros, and the "deleted" text messages about this behind-the-scenes deal.
But here's the kicker‼️
The lobbyist decided to act after attending a conference in the EU-Parliament last year that I organized together with my French colleague Virginie Joron.
I'm so happy that our arguments against the fake, globalist elites are now even reaching and convincing people who may have recently been on the other side themselves.
If I was able to change just one person's mind with my work - then it was all worth it!
https://www.euractiv.com/section/politics/news/belgian-lobbyist-sues-von-der-leyen-over-pfizer-contracts/
https://www.youtube.com/watch?v=h3KlydxdvYs
Kind regards,
Yours, Christine Anderson, MEP (AfD)
🇨🇦🇺🇸🇬🇧🇦🇺
Right now in the EU Parliament with my dear colleague Virginie Joron:
Presentation of the new book by Alexandra Henrion Caude
"The Sorcerer's Apprentices:
- The COVID Management of the EU.
Full house and very high interest. All seats are booked. So happy!
🇫🇷🇨🇦
Actuellement au Parlement européen avec mon estimée collègue Virginie Joron:
Présentation du nouveau livre d'Alexandra Henrion Caude
"Les apprentis sorciers :
- La gestion COVID dans l'UE
Très grand intérêt. Toutes les places sont réservées. Je me réjouis!
Dear fellow citizens,
Dear fellow campaigners and highly appreciated freethinkers,
at Easter we celebrate the resurrection of Christ as a symbol of the victory of life over death. Let us celebrate this victory together with our friends and families; those families that have always been the nucleus of life and the foundation of every larger community. Family is also the natural stronghold that easily resists any poisonous ideology, any elitist hunger for power, and any encroaching government. We should always be aware of this important message so that our children can continue to live in freedom and self-determination.
I wish you and your families a happy Easter and sunny holidays amongst your loved ones. 🐣🐰🎀
Kind regards,
Yours, Christine Anderson, MEP (AfD)
➡️ P.S.: See/hear you again next week with new, exciting reports and videos from the EU Parliament as well as the COVID Special Committee.
Got to meet guerrilla journalist @JamesOKeefeIII whom I thanked for his outstanding work on exposing Pfizer's gain of function research.
And Project Veritas will live to regret kicking out this fighter for truth & freedom shortly after his legendary revelations. Why, actually? How much did they get paid for it? Was it worth the 30 pieces of silver?
I can tell you one thing right now: this amazing guy has a mission & no one's gonna stop him. Pfizer's paid stooges be warned!